Teaching
Suz has taught series classes and workshops in painting and drawing since 1996 including watercolor, botanicals, portraiture, and figure drawing in various locations including Texas, South Dakota, Arizona, Wisconsin, Minnesota; and she was on the faculty of the Minnetonka Center for the Arts in Minneapolis for over 20 years. She has retired from teaching series classes but still offers workshops throughout the U.S.
Workshops by Suz Galloway - All workshops can be tailored to fit club needs, competancy and calendars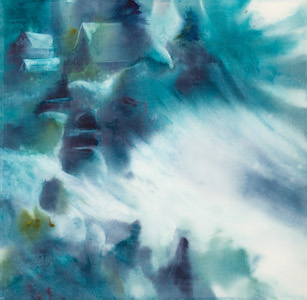 Wet-into-Wet Watercolor Workshop, 2-4 days
This workshop is designed for the intermediate to advanced watercolor painter using the saturated  wet-into-wet technique to create paintings with soft edges.  It involves pouring, re-wetting, wiping out and intuitive thinking rather than approaching the painting from a realistic standpoint and is designed for the intermediate to advanced painter.  Expect to be challenged!!!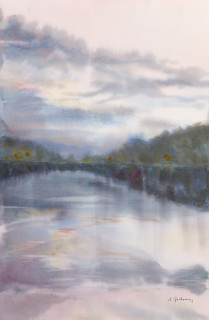 Color Confidence Workshop, 2-3 days
This workshop will explore color, value, intensity and transparency in ths confidence building color class.  Students will learn how to reduce the number of colors on their palettes through understanding and experimenting with mixing pure pigments to create beautiful "neutral" colors.  We will learn about natural and synthetic pigments, labeling and how some manufacturers use various pigments that are identical to other manufacturers but with different names.  This workshop is a "must" for intermediate to advanced painters as a foundation for understanding color.
Elements  of Design  Workshop, 2-3 days
This workshop focuses on the 7 primary elements of design - Color, Value, Shape, Size, Texture, Line, Direction using both realistic and abstract approaches.  We will examine examples of both good and poor design and we will complete exercises emphasizing the elements of each element individually; finally we will combine two or more of them into the students' own well-balanced design. 
Contemporary Botanicals Workshops - Intermediate and Advanced, 3-5 days
This workshop is designed for intermediate to advanced artists to pursue individual projects in the American style of botanical painting. Each student will select a botanical subject and develop their painting process through plant selection, process drawings, composition and color and value development with guidance from the instructor. The instructor will introduce painting methods, techniques, design and current literature as needed. 
Bring your supplies and subject matter.
Prerequisite:  Watercolor painting and/or drawing experience or Contemporary Botanicals I.
Enrollment limited to 15 students, ages 16 and up.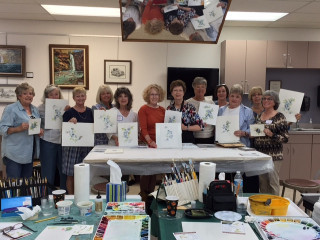 Contemporary Botanicals I - Introductory Workshop, 2-3 days
This is a workshop devoted to the American style of botanical painting and drawing. Beginner students and those needing a "refresher"are all welcome! This workshop will help you learn to see your subject in more detail and understand the transition from botanical illustration to fine art.
Beginners will be provided with specific subject matter.
Students may use graphite, colored pencil and/or watercolor but contact the instructor prior to the first class for a list of other materials.
Enrollment limited to 15 students, ages 16 and up.